How to Make Art for People and Entities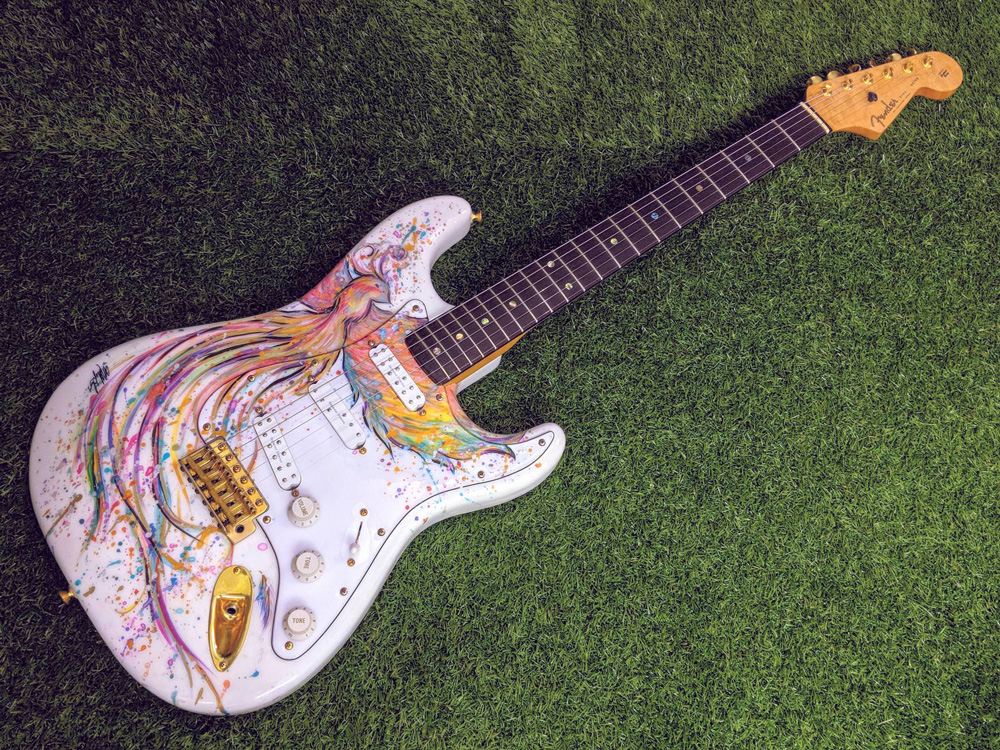 In this post, I'm going to use the guitar project as an example to explain steps and general best practices for doing commissioned art pieces.
I had quite an adventure creating this piece. The idea was from my friend Bryan, who asked me to refinish an existing guitar for him with a painting of a phoenix. I had never done anything with a guitar before—except learn the 12-bar blues briefly and much to my neighbors' dismay.
Step 1: Know what the commission is. Take time to communicate clearly with the client so you are on the same page before accepting the project. People asking for commissions are not often artists or designers themselves and might say things that are confusing or just wrong. They also might not know what they actually want. This doesn't generally indicate that they are stupid or difficult to work with; they are looking outside of their own fields of expertise and turning to you (the expert) for help. Ask questions. Be patient. Err on the side of providing too much clarification, rather than not enough (but don't condescend).
I was very up front about my lack of experience in doing a project like this, as I was concerned about messing up the guitar he supplied and/or ending up with a disappointing product. I always try to be as clear as possible when outlining potential pitfalls for a project. I think total honesty is really important and this approach: a) helps prevent the client from getting a product that they are unhappy with, and b) helps them understand how much work actually goes into the project.
Straight forward, no-nonsense info and project updates are good, self-deprecating tmi is not. The client doesn't need to know that you spent two hours walking to the hardware store through a snow storm to replace your dremel because you made the mistake of buying a cheap one on Amazon and it broke during inclement weather right before a big deadline. (Hypothetically.) Also, the dremel that broke was a WEN 2305 Rotary Tool Kit with Flex Shaft.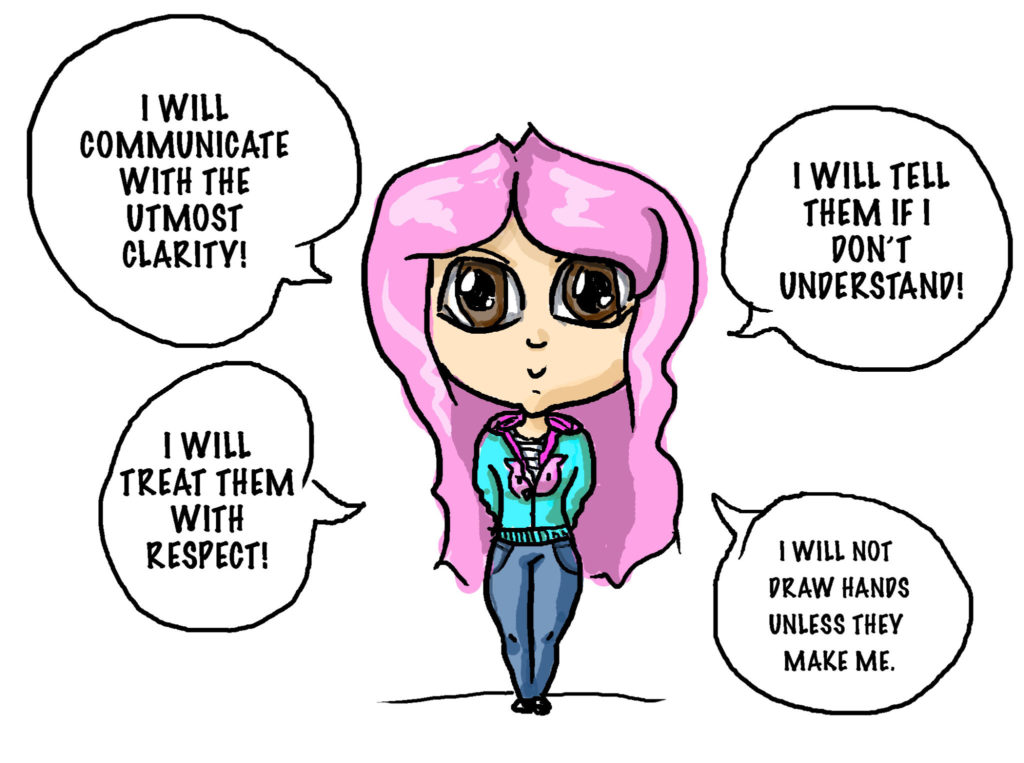 Step 2-A: Quote your price. Take time to figure out how long the project is going to take you, materials, etc, and set a fair price. There are lots of ways to calculate this, and you can find different formulas online then tweak them to fit your situation. Personally, I generally set a wage for myself, estimate the active hours it will take me to complete the project, add material costs, and quote that price. There are many times when I will change things around for a specific project for one reason or another, but this is a fine starting point. For example:
I want to make $X per hour.
This project will take me Y hours to complete.
Materials will cost $Z.
X * Y + Z= Quote
My commission process is different depending on the project, but for this one I set a price I thought was extra reasonable for personal reasons—I had free time, was excited to do the project, didn't know what Bryan's financial situation was, and I wanted to make my art accessible. Note: none of those reasons are good professional reasons, which is why I refer to them as personal. The client, Bryan, thought it was way too reasonable and offered me twice the money, which I was grateful for and accepted. Don't count on that ever happening.
Note to artists: STOP SELLING YOURSELF SHORT. YOUR TIME AND SKILLS ARE VALUABLE AND ANYBODY ASKING YOU FOR SOMETHING SHOULD THINK SO, TOO. IF THEY CAN'T/WON'T PAY WHAT YOUR TIME IS WORTH THEN DON'T MAKE THE THING…DID YOU MAKE THE THING ANYWAYS? STAAAHHHHPPP MAKING THE THINGS FOR PEOPLE WHO DON'T UNDERSTAND AND APPRECIATE THEM. (Of course use your best judgement and do what you feel is right for your own situation.)
Step 2-B: Quote your timeline and/or completion date. Make sure you quote an accurate timeline. Leave yourself a bit of a cushion.
There are two acceptable reasons to change a timeline:
The client has added/changed parts of the project so it now requires additional time to complete (this is also the only reason to change a price quote).
A real, true, actual emergency or unforeseen life event. Note: having the flu or taking a trip to Hawaii are not unforeseen life events.
Personally, I steer away from changing time and price quotes for any other reason. You might say, "but I miscalculated my time, materials cost more than I thought, and my cat threw up on my carpet this morning." To which I would reply, "I hope your cat is ok and everything is your fault."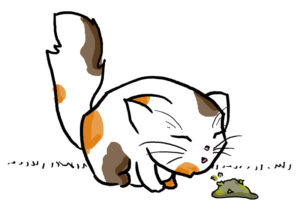 You might also run into a scenario where your good friend commissions something and they say something along the lines of, "just get it to me whenever, take your time, no rush." Don't listen to them. Pick a date. Tell them the date. Stick to the date. This avoids any potential awkwardness down the line and also helps you to accurately plan out everything else you have going on.
Step 3: Submit quote to client. Combine your timeline and price quote into a written document (email is fine) and give it to your client. Phone and in-person conversations are great for establishing a relationship with the client and for clarifying points about the project. However, can you remember what you ate for breakfast 3 months ago? No. You can't. Now, tell your client what they ate for breakfast 3 months ago and make sure to express how right you are and how clearly you remember exactly what they ate. Do you feel insane in that scenario? Excellent. Put your quote in writing and get a written affirmative response from your client.
Note: When you have important conversations with your client, consider sending a summary via email afterwards. This makes you look spiffy and professional and also prevents miscommunication.
Details to consider when designing your quote:
Number of check-ins to be included.
How many (big/small) revisions can the client ask for? At which stages of the project are these accepted?
Size, or size range, of completed piece(s). E.g. the sculptures will be between 6″ and 8″ in height.
Are design sketches or mock-ups included? How many? What size/medium?
If you are providing multiple items, list the price per finished piece.
Are there multiple project phases? Include a timeline for each phase.
If you are charging tax or shipping, include it clearly.
What are your terms for payment? This probably doesn't get included in the quote, but should be agreed upon before you start work on the project. See payment section below for details.
For the guitar commission, we mostly communicated over Facebook Messenger. It was casual because we already had a rapport as friends. We chatted about which parts of the project he would cover (supplying the guitar, sanding it down, and delivery to me), and which parts I would cover (all art materials, painting, refinishing, and shipping the finished guitar). We agreed on the price and a general timeline. The timeline was a little vague, and I ended up being stressed about it because I felt internal pressure to work quickly in case we had different understandings of what the timeline was. This was totally my fault, and I should have just specified an exact timeline and gotten the ok to put my mind at ease. Everything ended up working out totally fine.
Step 4: DO THE THING. DO IT IN THE AMOUNT OF TIME YOU SAID YOU WOULD DO IT. DO IT LIKE YOU SAID YOU WOULD. IS IT DONE? YAY! CONGRATULATIONS! DOES YOUR CLIENT KNOW IT'S DONE? EVEN BETTER! DO THEY POSSESS IT? YOU HAVE DONE THE THING!! FEEL HAPPY AND ACCOMPLISHED!!
Payment: Artists have different ways they like to do this part. Many artists enjoy getting paid. If you enjoy getting paid, be clear with your client about the timeline for payment. If you are doing a commission for a company or organization, often they will have their own system and/or contract for you to sign.
For instance, I recently signed a contract that had Net 45 payment, which basically means they have 45 days to pay me after I submit the invoice, and the invoice is generally submitted at or around the same time as the final project. Net 15, Net 30, and Net 45 are all standard terms of payment. I have not personally received money up-front for a commission from a company, though I have worked with companies that reference the net terms I supply on my invoice.
If you are doing a commission for a friend or individual, I recommend getting at least part of your fee up front, such as 50% before you start work and 50% when the project is delivered. This money can also help you cover any materials you need to purchase. You can also break the project into phases so they are paying as you go, like $100 for design sketches and an additional $500 if they decide to move forward with the final piece. Be sure to display this clearly on the quote as totaling $600, and be clear about when they can back out or not.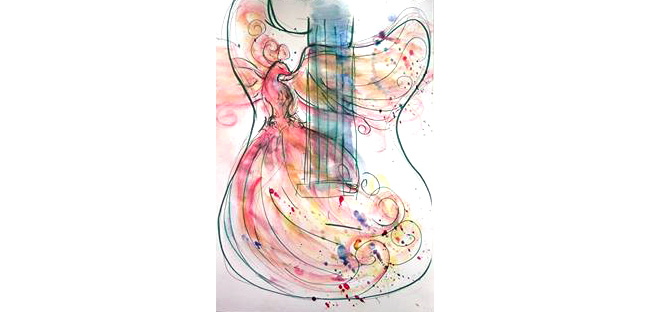 After we agreed on pricing for the whole project, I supplied the above watercolor design sketch for the guitar, and then moved forward with painting on the guitar. I gave Bryan the opportunity to request changes to the sketch design and made sure to get an affirmative response before I touched the guitar.
I didn't actually make him pay me up front. In fact, I remember him asking me a few times when I was checking in about design stuff if he could pay me, and I was like, "let's make sure you like it first, wait till it arrives in the mail, you can pay me at the end, or if you don't like it you can pay me what you think is fair, I'm concerned it's not good enough, what if it doesn't sound good when you play it?" I also made sure to send him photos of the guitar during the process that were as unflattering as possible and pointed out the potential flaws. He sent me the money early anyways. Don't count on that happening. DO AS I SAY NOT AS I DO. 
Here's a nice post on Reddit by my friend Bryan that got a lot of responses. You might get some additional answers and info through here if you're interested in painting a guitar, and also you can read people saying nice things about me: A Real Fender Firebird.